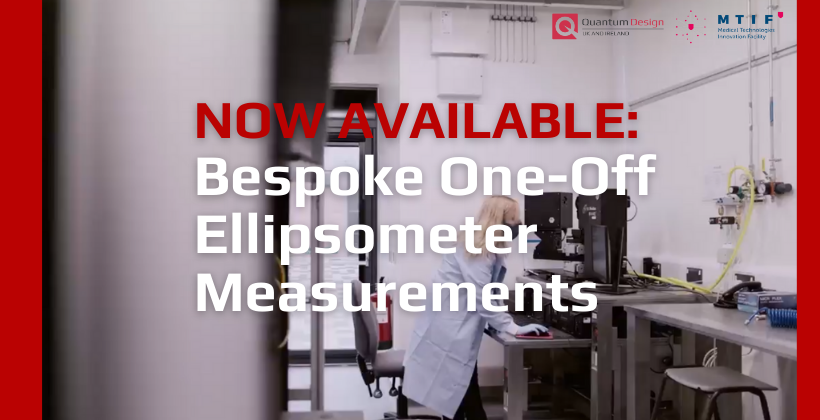 Seeking to better understand the optical and electronic properties of materials or thin films for nanophotonic or electronic applications?
We recently announced our partnership with Medical Technologies Innovation Facility. We wanted to offer you a little more detail on what this collaboration means for you and your research.
The recent work carried out by Dr. Kalfagiannis, utilising spectroscopic ellipsometry in an extended spectral range, has enabled clarification of the conduction mechanisms of different materials and range of application.
Our mission is to help our customers improve the quality of patient care by accelerating the development and commercialisation of their innovative medical technologies.

MTIF
What the MTIF/QDUKI agreement offers you
The partnership agreement affords customers the ability to view and utilise the JA Woollam IR VASE II Spectroscopic Ellipsometer. Indeed, this is only one of two such instruments in the UK and the only one now made available to customers in the UK in this way. The nature of Ellipsometry (relatively fast and non-destructive) makes it ideal for diagnostics in several sectors such as semiconductor devices, photovoltaics, nano-photonics, flat panel displays, optical coating stacks, construction materials, biological and medical coatings, protective layers as well as real-time quality control.
MTIF – with a strong academic pedigree and expertise in nanofabrication – can conduct such analysis on your behalf offering a bespoke and individualised service. Please reach out to discuss your needs today.
Facilities
MTIF is a dual site facility. The research facility is a 2265m2 two storey purpose built building, located at NTU's Clifton campus. It features laboratories, clean rooms and an extensive range of specialist equipment to provide industry with the resources to accelerate its research and development.
The MTIF commercialisation facility is a 1053m2 single storey purpose built building, located at the Boots Enterprise Zone, two miles from the Clifton research facility.
Thin Films Laboratory
A variety of assistive technologies for materials deposition, including physical and chemical deposition techniques, such as RF magnetron sputtering, atomic layer deposition and thermal evaporation of nano-engineered coatings and thin films. These are applicable across a broad range of industrial applications such as, optical coatings, plasmonic thin films, SERS sensors and large-area electronic devices.
This partnership provides companies with a unique opportunity to use cutting edge Ellipsometry technology supported by renowned research expertise. These capabilities are usually unavailable to all but the largest organisations. This partnership allows organisations of every size the opportunity to accelerate their development programmes.

Professor Mike Hannay, Managing Director of the Medical Technologies Innovation Facility (MTIF).