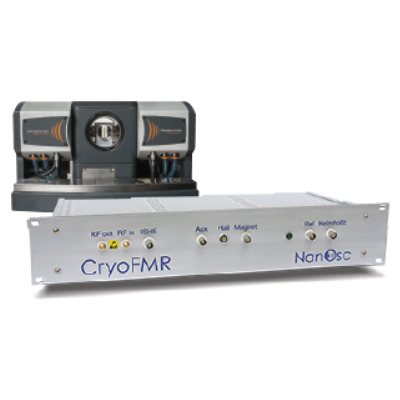 NanOsc CryoFMR FMR Spectrometer
Coplanar Waveguide Ferromagnetic Resonance
The CryoFMR is the FMR spectrometer from NanoOsc. When combined with the Cryostation C2 system and Magneto-Optic module*, it can be used as a turn-key variable temperature Coplanar Waveguide Ferromagnetic Resonance (CPW-FMR) spectrometer. CPW-FMR is a spectroscopic technique that measures the coupling between an RF signal traveling in a coplanar waveguide and the oscillating magnetisation of a sample.
In turn, this can be used to determine the saturation magnetisation (Ms) or the gyromagnetic ratio (λ), in addition to parameters of the dynamic behaviour of the spin excitation, such as the intrinsic damping (α) and the inhomogeneous line broadening (ΔHo).
*also available through Quantum Design UK and Ireland (formerly LOT-QD)
No Vector Network Analyser is required as the system uses an AC a lock-in technique.
"Purchasing the CryoFMR system has enabled our group to branch out into spin wave measurements quickly and easily. Without prior experience running microwave/FMR measurements, the CryoFMR has allowed us to get a spin-wave research programme up and running with several resulting publications in a short period of time.

In addition to conventional thin-film measurements, the sensitivity of the CryoFMR has also allowed us to measure nanostructures – something which we'd previously struggled with using other experimental setups.

The technical support team are responsive and have continued to update the control software and add additional features. The system has been low-maintenance, easy to operate and I'd happily recommend it, especially to existing PPMS or MPMS owners."
Dr Jack C. Gartside, Imperial College London
FEATURES
10-350 K temperature range
2-18 GHz frequency range
AC field modulation via Helmholtz coils
Includes Hall sensor assembly
Coplanar waveguide with coaxial cables