Having finished up our 21st Annual J.A Woollam Workshop and CompleteEase Course, we wanted to take a look at just why this event has been able to run so long and still be fully booked every year.
The course and workshop this year covered the usual topics (including the theory and fundamentals of spectroscopic ellipsometry, applications and data analysis).
The main reason for the longevity of the workshops is the constant innovation of our partners at the J.A Woollam company, since its inception, we've been able to bring attendees exciting new software and products. Plus, of course, because we do basic sample measurements on the day, every course is different.
Attendees at the last annual Woollam Workshop and CompleteEase Course gave the workshop an overall score of 88.6%. The demonstrations scored particularly highly. Many of our guests are students, who love to share their work that has been done using instruments we've provided.
As Prof. Joe Keddie said in our recently launched Company Video:
"QDUKI run some short courses, which are really good for new users and our students who have joined the group. So I'll say to them, 'Why don't you check out this short course or this workshop that QDUKI are offering? Just to make sure you're up to date with the latest developments.' It's been such a pleasure working with Quantum Design and also with the J A Woollam company"

Prof. Joe Keddie, Department of Physics, University of Surrey
What really was obvious with both of the events was that the delegates got to meet people working in the same area as themselves and they could network and link up to discuss and compare their work in the future. We have found that relationships developed at these events have last years!
Feedback from this year's event:
"I arrived at the CompleteEASE workshop on 13th September with little knowledge of the theory of spectroscopic ellipsometry and very little experience of fitting and analysing ellipsometry data. By the first day, I had developed a thorough understanding of the physics of spectroscopic ellipsometry and how the J.A.Woollam ellipsometers work to collect data for determining film properties such as the thickness and optical constants, thanks to the great communication skills of Andrew Martin and Jeremy van Derslice.

The 3-day course went on to bolster this, with plenty of examples for us to try for ourselves, which was key to gaining a better understanding of the fitting methods available to use in CompleteEASE. The methods of fitting, namely when to use a Cauchy layer, a B-spline and a Gen Osc model etc. were explained in detail, again with practical examples, as practice makes perfect seems a very apt statement for determining how best to fit different data.

The course was not only thorough and helpful but fun and engaging. I truly feel that my time and money was well spent and that I had advanced my knowledge of ellipsometry significantly. The venue of Nottingham Trent University was a good location and provided a good service and the people from Quantum Design UK & Ireland were also very helpful and friendly and did a great job of organising the course and events. In addition to this, the course included a dinner which allowed for course members and organisers to meet and network, which was fantastic and good connections were made!

Special thanks to Andrew and Jeremy for doing a great job of providing a useful and captivating course that explained everything clearly. Also thanks to Shayz and Angela for organising and helping everything run smoothly, and everyone at Nottingham Trent University for their support and providing a great service.

It was great to meet everyone and I highly recommend this course!"

Nicky Evans, Physics Student, Oxford University
Feedback from, the J.A Woollam Company
We were delighted to be able to welcome back our friends from the J.A Woollam Company – applications engineers Jeremy Vanderslice and Andrew Martin. Both have been involved with these annual events for many years, save for last year when we had to hold the events online. They were glad to be back, too, and had this to say:
"We're really proud to be in our third decade of the JA Woollam/QDUKI hosted ellipsometry events here in the UK. It's a privilege to meet existing and new users each year. They really shape how the workshop and short course works, so it's never the same. Over the last 20+ years we've been able to present new developments and capabilities as well as introduce new products to ellipsometer users."

Jeremy Vanderslice, Applications Engineer, J.A. Woollam Company
"QDUKI and Woollam have worked together for over 25 years now and these events are always productive, fun and insightful – getting feedback from the users helps us shape the developments we make in the future. We look forward to meeting you at future events."

Andrew Martin, Applications Engineer, J.A Woollam Company
Learn more about Jeremy Vanderslice and Andrew Martin, Applications Engineers from J.A Woollam.
Feedback from co-hosts, MTIF
We were delighted at MTIF to be able to collaborate with Quantum Design UK and Ireland, and J A Woolham to host the workshop and CompleteEase software course here at our facilities. It was encouraging to see so many attendees keen to attend face to face now that COVID restrictions have been lifted and it was satisfying to be able to welcome so many in to see our laboratories and facilities. We look forward to hosting more events in conjunction with QD in the future.

Dr Max Bardwell, Senior Business Development Manager, MTIF
We want to extend a warm thanks to Dr. Nikolaos Kalfagiannis and Chris Mellor for their user talks – And a big thank you to the team at MTIF as well for the use of their excellent facilities and the J.A. Woollam IR VASE II.
---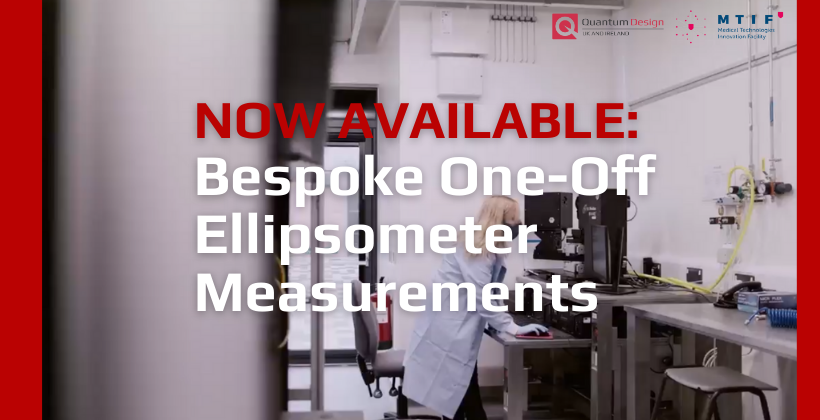 Don't Have an Ellipsometer Yet?
Did you know you can get one-off bespoke measurements through the Medical Technologies Innovation Facility at Nottingham Trent University?
---