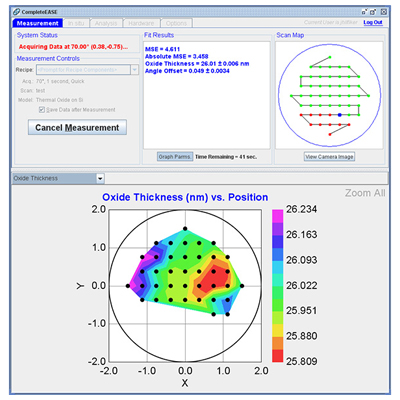 J. A. Woollam CompleteEASE Ellipsometer Software
Spectroscopic Ellipsometer Software
The next generation of ellipsometry software has arrived with CompleteEASE, J. A. Woollam's revolutionary new software for their ellipsometers. It's easier than ever to use, and with the World-class quality you've come to expect from J. A. Woollam Company.
CompleteEASE is an all-inclusive software package to handle all your ellipsometry requirements. Conveniently measure the uniformity of your samples with automated sample mapping. Collect in-situ data with spectroscopic ellipsometry on your process chamber or with add-on temperature control stage or liquid cell.
FEATURES
Create your own recipes to collect data, automate mapping and analyse your samples – contained in one step. Convenience and simplicity combine for push-button operation
CompleteEASE includes built-in models covering a wide range of typical samples.

– Built-in models conveniently describe how to process the data to determine thin film properties.
– CompleteEASE also includes over 400 material files and dispersion equations to approach a wide variety of thin films – from dielectrics and organics to semiconductors and metals

The CompleteEASE Thickness Pre-Fit quickly and automatically finds the best thickness to match the data using a special patented algorithm. Eliminate the guesswork when nominal film thickness is unknown
The B-spline layer was developed in CompleteEASE as an alternative to direct fits or oscillator models. It combines the benefits of

(i) reduced number of fit parameters,
(ii) complete flexibility in optical constants for any material
(iii) remove the guesswork of where to place oscillators and what type to choose.

Especially valuable for describing complex dispersion shapes. Advanced features of the B-spline include the ability to customise resolution and maintain KK consistency.
Generalised Oscillator Layer
VIEWING & REPORTING YOUR RESULTS
Optical constants can be saved into a tabulated list of n & k. Copy your results to the clipboard; including analysis model, fit results, and plots of experimental and model-generated data.  Graphs and tables provide information about your sample and material properties.  All can be copied to the clipboard or let CompleteEASE automatically build your report for you.