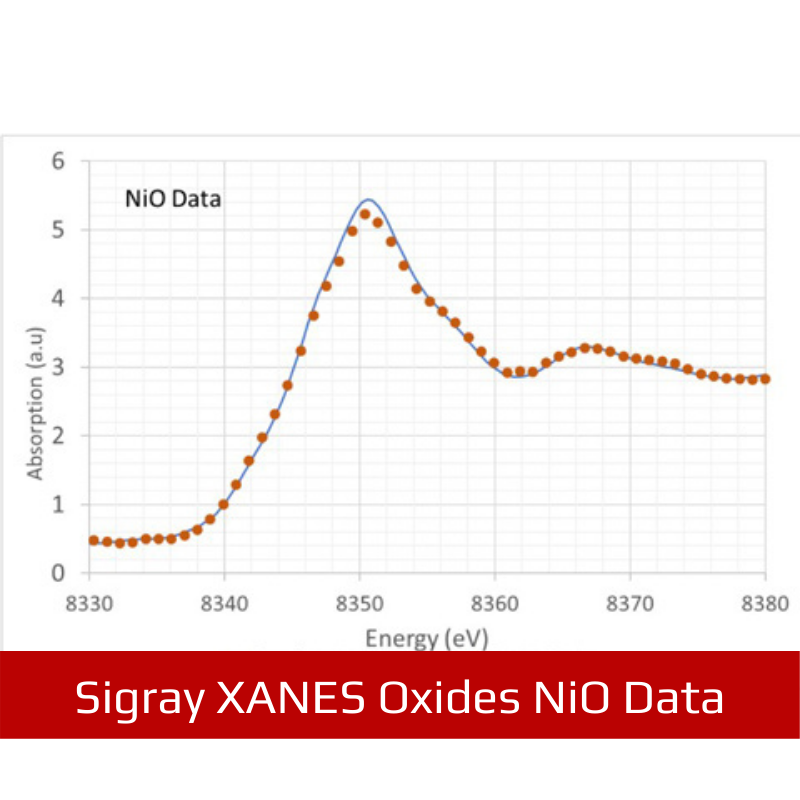 Sigray QuantumLeap-V210 X-Ray Absorption Spectroscopy (XAS) System
First laboratory XAS with low Z capabilities and microspot analysis
Microspot Transmission Mode XAS system with spot sizes down to 100um diameter. The system is designed in a vacuum enclosure and, predominantly, useful for light element (S, P etc…) analysis through use of dispersive geometry and optional XES mode.
Switching between 2 geometries to allow for high resolution (<1 eV), low flux, XANES measurements and low resolution (<10 eV), high flux, EXAFS measurements
Synchrotron-like Performance in a Laboratory XAS System
The system's performance is the culmination of several major design innovations, including: 
Patented acquisition with parallel detection spectrometer, making use of modern crystal and detector technology 

Novel x-ray double paraboloidal optics that removes higher order harmonic contamination, to allow for maximum source efficiency to be utilised

 

Patented ultra-high brightness x-ray microfocus source, with multiple target materials in the same source body, that enables use of high efficiency, low diffraction orders of the crystal analysers, for improving acquisition speed and reducing signal contamination.

 

The microstructured target material structure and liquid cooling functionality improves thermal dissipation

 

High, spatially resolving, DQE direct detection CCD detector with high resolution and multi-frame readout capability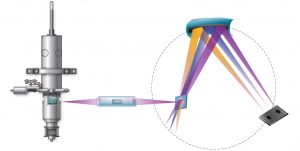 XAS GALLERY LINKS:
FEATURES
Specialised for low atomic number analysis and micro-XAS:
Wide energy coverage, with low energy coverage: 1.7 – 10 keV due to a vacuum enclosure, enabling coverage of elements such as P and S not possible in ambient conditions
Sub-eV (<0.7eV) energy resolution
Micro-XANES mapping at 100 µm
Recipe acquisition for unsupervised overnight runs
Patented acquisition approach to optimize XAS spectra at highest throughput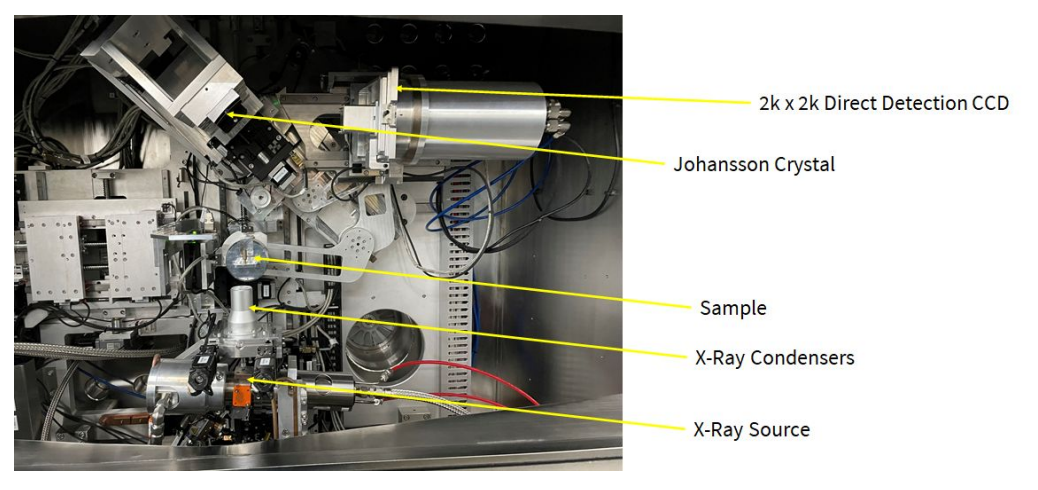 Parameter
Specification
Overall
Energy Coverage
1.7 to 10 keV
XAS Acquisition
Transmission mode
Energy Resolution
0.5 eV in XANES
<10 eV in EXAFS
(Note that you can also use XANES mode to acquire high resolution EXAFS at 0.5 eV)
Beam Path
Enclosed in vacuum
Focus at Sample
100 μm diameter spot
Source
Type
Sigray patented ultrahigh brightness sealed microfocus source
Target(s)
W and Mo standard.
Others available upon request.
Power | Voltage
300W | 20-50 kVp
X-ray Optic
Type
Sigray proprietary double paraboloidal x-ray mirror lens
Transmission Efficiency
~80%
Magnification
1:1 magnification
Interior Coating
Platinum for increasing collection efficiency of optic.
Others available upon request (e.g. Iridium coating for analyzing Pt).
X-ray Crystals
Type
HAPG/HOPG
Ge (220) Single Crystal
Ge (400) Single Crystal
Fourth Crystal of Ge(111) provided if low energy (2.1 keV) operation is of interest
X-ray Detector
Type
Spatially resolving (pixelated detector)
Dimensions
Footprint
42″ W x 95″ H x 75″ D
Additional Capabilities
Multiple Sample Holder
Holds up to 16 samples of ~3mm diameter each
Catalysts
Catalysts, which are used to speed up chemical reactions, are estimated to be used in 90% of all commercially produced chemical products and represent more than a $30B global market. They are used in a vast array of applications, spanning from polymers, food science, petroleum, energy processing, and fine chemicals. Synchrotron-based XAS has become the method of choice for developing novel catalysts and to link structural motifs with catalytic properties. QuantumLeap provides convenient in-laboratory access to such capabilities without requiring the time and expense of acquiring synchrotron beamtime. Graph: Analysis of chemistry in a Co-Cu catalyst sample and measurement of a reference Co foil. Note high resolution features such as pre-edges can be clearly seen.
Batteries and Fuel Cells
There are a very large number of potential electrode hosts for Li+ being explored in lithium ion batteries (LIBs), including different material compositions and various structures (micro to nanosized). XAS is commonly used to characterise structural and electronic information of electrodes to obtain understanding of electrochemical mechanisms governing a given battery's chemistry. Sigray's QuantumLeap not only enables ex-situ determination of electrocatalyst chemistry, but is also designed with baffles and feedthroughs for optional in-situ cells to study changes in-operando. Furthermore, the vacuum enclosure of the QuantumLeap-V210 permits analysis of important new battery concepts such as high energy density Li-S batteries by providing access to sulphur chemistry. Graph: XANES spectrum of a new versus aged lithium ion battery cathode, demonstrating chemical changes
Nanoparticles and Nanotubes
The electric, magnetic, and catalytic properties of nanoparticles differ strongly from the same materials in bulk phase. These properties depend on the nanoparticle's size and shape. Nanoparticles of 1-5nm in size are difficult to characterize with ordinary laboratory techniques such as XRD and TEM. XAS provides information on the distance of atoms, average size of particles smaller than 2nm, and even shape. Graph: Hematite and magnetite iron nanopowder XANES analysis