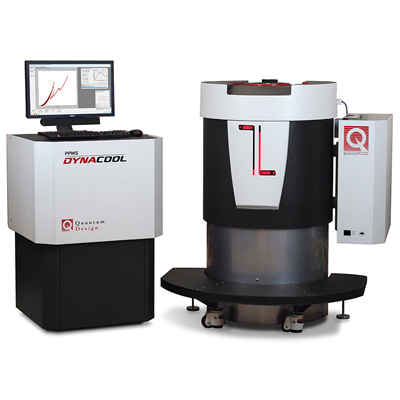 Quantum Design PPMS® DynaCool™ Measurement System
Cryogen free Physical Property Measurement System
The PPMS DynaCool, uses a single two-stage Pulse Tube cooler to cool both the superconducting magnet and the temperature control system, providing a low vibration environment for sample measurements.
Utilising a new approach to cryocooler equipment design, the PPMS DynaCool employs a unique 4He-based gas flow control system that gives you the rapid temperature cycling and accurate temperature control that you have come to expect from a PPMS.
Technical Service and Application Support is available for the Quantum Design products – download the PPMS DynaCool service plan here
The PPMS DynaCool also comes standard with an integrated Cryopump used to pump out the sample space to a vacuum of < 10-4 Torr.  This makes the PPMS DynaCool compatible with all the available options, or any other user-designed experiments, right out of the box.
FEATURES
No need for liquid cryogens
Temperature range of 1.8 K – 400 K
9 tesla and 14 tesla magnets available
Continuous Low-Temperature Control – maintains temperatures below 4.2 K and offers smooth temperature transitions when warming and cooling through 4.2 K
Controlled temperature Sweep Mode
Fully automated operation of available PPMS applications/options
Built-in Cryopump for high vacuum applications
New electronics built using CAN architecture for improved reliability
Standby mode conserves power while requiring only a short recovery time