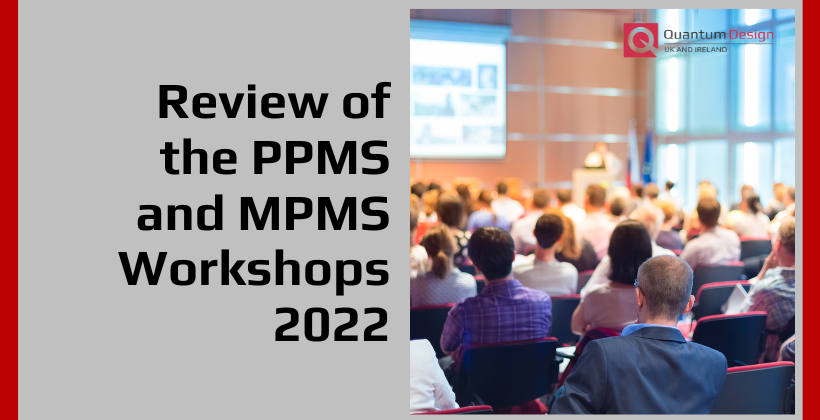 This year, we were delighted to be able, finally, to welcome users and contacts back to our Quantum Design Workshops. The workshops were held at Rutherford Appleton Laboratories, one of the national scientific research laboratories in the UK operated by the Science and Technology Facilities Council (STFC).
Business Development Manager, Angela Carslake said:
It was great to hold the workshops again and meet our valued users once more. Not only are these workshops an ideal opportunity for gaining knowledge on Quantum Design systems, but delegates are able to network amongst each other and discuss their research. We particularly would like to thank our host, Gavin Stenning at RAL for helping us to bring it all together.

Angela Carslake, Business Development Manager, QDUKI
User Talks
We were joined by a large roster of QD systems users who wanted to share their knowledge and research. We also made sure there were plenty of opportunities to create a more organic discussion, based on topics and applications specific to attendees. Speakers included:
Randy Dumas Applications Scientist, QDUSA. Randy hosted the PPMS Workshop and the MPMS Workshop.
Dr. Murat Cubukcu, National Physical Laboratory. Murat gave a new user talk at the PPMS Workshop called: "Characterisation of magnetic devices using PPMS for future spintronic technologies"
Gavin Stenning, Laboratory Manager, RAL. Gavin gave a host user talk titled "Materials Characterisation at ISIS Neutron and Muon Source"
Dr Matthew Coak, London Centre for Nanotechnology, University College London & Department of Physics, University of Warwick. Matthew spoke about SquidLab – A user-friendly program for background subtraction and fitting of magnetisation data
Dr. Jack Gartside, Post-Doctoral Researcher, Branford Group, Imperial College London. Jack's User Perspective talk was "Neuromorphic computing with nanomagnets: Using spin-wave readout for low-energy AI".
Stephen Lee, Professor of Physics, University of St. Andrews. Steve's new user perspective talk was: "Measurement of the Magnetic Anisotropy of Very Small Single Crystals of 2D Antiferromagnets"
The PPMS and MPMS Workshops have now passed, but if you'd be interested in joining future events, Click here to join our mailing list.
User Feedback
Dr. Matthew Coak commented about the events:
"I am very grateful to the Quantum Design Team for a very enjoyable and informative couple of days. The team were very friendly and it was a pleasure to meet them. I went in thinking I knew everything about running an MPMS already and was instantly proved wrong! I learnt a whole load of stuff I didn't even know I didn't know, extremely valuable workshop sessions."

Dr. Matthew Coak, London Centre for Nanotechnology, UCL & Dept. of Physics, University of Warwick