ImageIR® 10300 – Over 2.9 Mpixels
With the ImageIR® 10300, users from industry and science for the first time can use a radiometric infrared camera whose cooled photon detector permits images in the format (1,920 × 1,536) IR pixels.
Full HD resolution of about 3 Megapixels
Pixel pitch of 10 µm
Thermal resolution better than 0.03 K
Measurement accuracy ± 1 °C or ± 1 %
High-speed recording with previously unknown image quality
With its detector format of (1,920×1,536) IR pixels the ImageIR® 10300 sets new standards in geometric resolution worldwide and creates thermograms with an unprecedented image detail and sharpness. For the first time an infrared camera for civil use with a cooled photon detector permits full HD images. In combination with the small pitch dimension of 10µm, this ensures that measurement, inspection and surveillance tasks can be solved even more efficiently than before. Everywhere such very fine structures need to be analysed on large-surface measurement objects, for example, users save time, effort and thus costs.

Despite the detector format of about 3 Megapixels, the transfer of full frame images achieves a rate up to 100Hz. Thanks to the 10GigE interface of the ImageIR® 10300 users can store large amounts of measurement data on a computer in the shortest amount of time. The interface is a part of the modular design of the entire high-end camera series ImageIR®. Individual adjustments like retrofitting a remotely controllable filter and aperture wheel or a motor focus unit can easily be realised. A broad variety of infrared lenses with highest optical performance parameters provides the camera's outstanding thermal sensitivity.
---
Functions
Detector Format
Efficient measurement of smallest structures on large-scale objects
IR-Frame Rate
Analysis of extreme temperature changes and gradients
Measurement Accuracy
Highly accurate and repeatable measurements
Thermal Resolution
Precise detection of smallest temperature differences
10 GigE Interface
High-speed, long-distance interference proof data transmission
High-speed Mode
Increase frame rates and thermal resolution at the same time using binning technology
Complete Optical Assortment
Adaptation of the image geometry to almost every measuring situation
---
---
Applications
---
High-speed Mode to Increase Frame Rates and Thermal Resol­u­tion at the Same Time
If you want to analyse the thermal behaviour of objects and processes from a wide variety of perspectives, you can use the high-speed mode for maximum flexibility. This function allows the camera to be used in two different operating modes. The standard mode suits best for depicting the smallest geometrical details. This allows users to record images with the native number of pixel of the camera detector. Switching to high-speed mode opens up the option of more than triple the frame rate, while the field of view (FOV) remains identical. This enables for most accurate time monitoring of fast processes. At the same time, the thermal resolution increases by a factor of 2 in high-speed mode, which additionally improves the analysis of temperature differences.
Further inform­a­tion about high-speed mode
---
Want to know more?
Get in touch with Luke Nicholls, our Technical Sales Engineer on (01372) 378822 or email him to discuss your application or research area.
---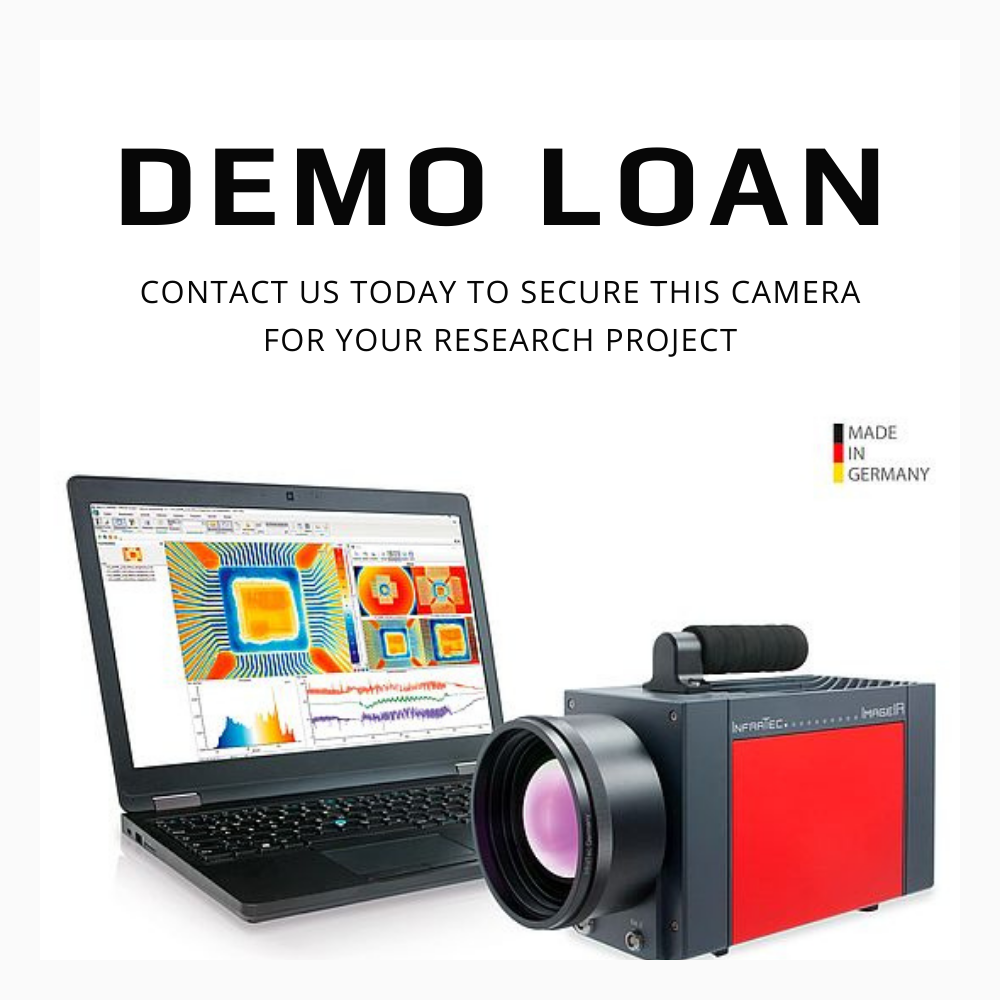 ImageIR 8300
The 2D infrared (IR) cameras from InfraTec are suitable for all applications of thermography. By using an IR camera one can perform non-contact absolute (or relative) temperature measurements, which allows – for example – non-destructive object inspection.