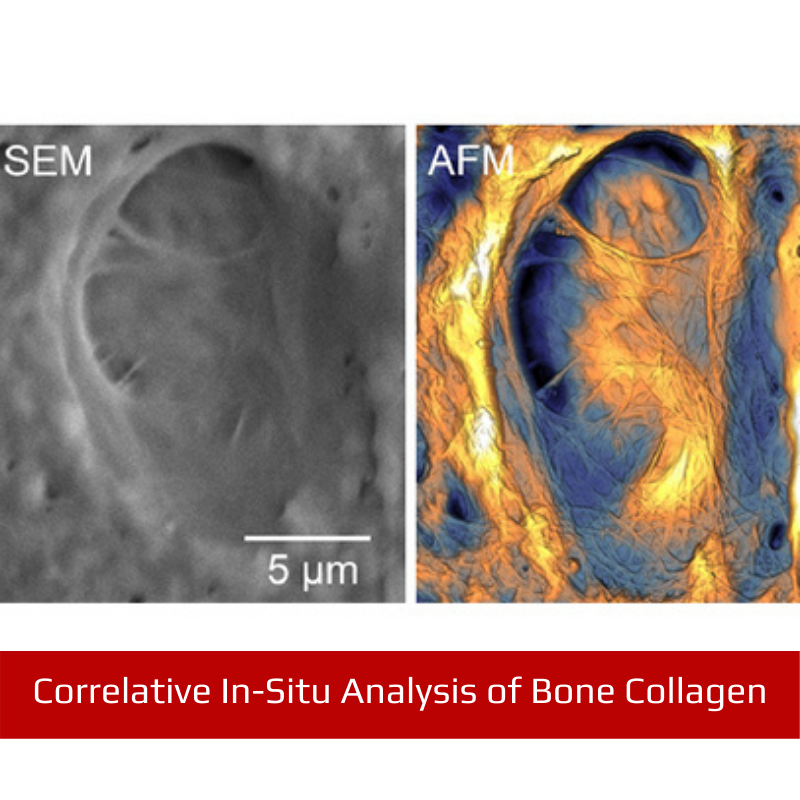 GETec Microscopy In-Situ AFM in SEM
In situ AFM analysis in your SEM
AFSEM™ is an atomic force microscope (AFM) by GETec Microscopy, designed for integration in a SEM or Dual beam (SEM/FIB) microscope. Its open access design allows to simultaneously operate SEM and AFM inside the SEM vacuum chamber. The complimentary image data of AFM and SEM enable unique characterisation of your sample.
AFSEM lets you simultaneously image your sample with high resolution, create true 3D-topography representations, and accurately measure heights, distances and even material properties, all while maintaining the large SEM field of view to position your AFSEM™ cantilever exactly where you want it.
AFSEM fits into most SEM or dual beam (SEM/FIB) systems: it is mounted directly on the door of the system chamber, leaving the stage unaltered. In addition, a slim tip-scanning design in combination with self-sensing cantilevers requires only 4.5 mm space between the pole shoe of the electron column and the sample. As a result, AFSEM is compatible with a wide range of standard and optional stages, and can handle virtually any sample that fits the system chamber. This elegant design allows detection of sub-nanometer step heights in the SEM.
Multiple modes are available through specific self-sensing cantilevers, for example for Static and Dynamic Imaging, Phase Contrast, Force Spectroscopy, Force Modulation, and Conductive AFM, with more modes and cantilevers to follow. Click here for more info
In situ AFM analysis in your SEM
Correlative AFM and SEM analysis
Compatible with most SEMs without impeding normal operation
Many analysis techniques in parallel to AFM and SEM
Intuitive handling with SCL's self-sensing cantilever