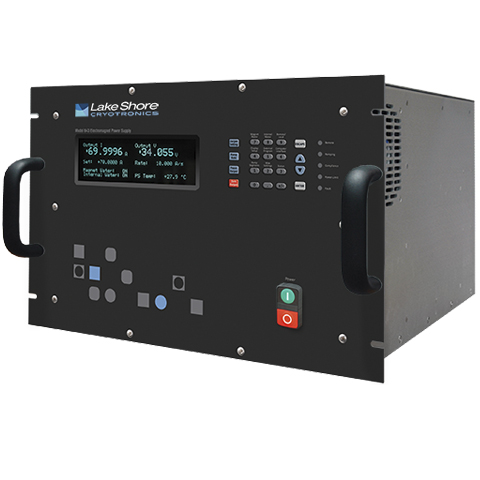 Model 643 Electromagnet Power Supply
The Model 643 electromagnet power supply is a linear, bipolar current source providing true 4-quadrant output, eliminating the need for external switching or operator intervention to reverse current polarity. The Model 643 is capable of supplying ±70 A/±35 V to a nominal 0.5 W, 0.5 H load, and the output can be modulated from an external source to frequencies up to 0.17 Hz at ±70 A. Internally programmed output provides 20-bit resolution, while externally programmed output provides unlimited resolution.
The compact, low noise design of the Model 643 makes it the ideal supply for use in laboratory settings. When combined with a Lake Shore EM4 4-inch electromagnet and Model 475 DSP gaussmeter, the Model 643 provides a versatile field control system ideal for a wide range of user defined applications. These include but are not limited to magneto-optical, magnetic hysteresis and susceptibility, and Hall effect measurements, as well as in-line annealing.
Output architecture
Output programming
Output reading
Protection
Interfaces
Display and keypad
Model 643 Features
Bipolar, linear, true 4-quadrant output
±70 A/±35 V, 2.5 kW
Can be modulated to frequencies up to 0.17 Hz at ±70 A
Low noise
0.1 mA of programmed current resolution
Analog programming and IEEE-488 and RS-232C interfaces
Built-in fault protection
Compact design