The increasing demands for quality and lifetime of wearing parts, new materials and designs in braking systems require profound investigations on the relevant assemblies and components. This upcoming webinar from our partners, InfraTec, is free to attend and part of a series of webinars focusing on thermography.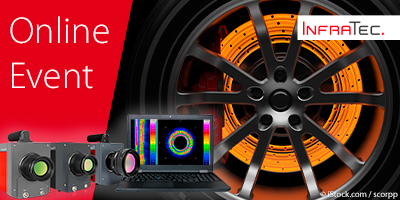 The event will cover:
Existing temperature measurement methods
High-speed thermography TRC mode: Setup
TRC hardware and software
Advantages of TRC mode
Sample measurements
Two Event Times to Choose From:
Wed, May 11, 2022 7:00 AM – 8:00 AM BST
---
Thu, May 12, 2022 6:00 PM – 7:00 PM BST
---
Any questions?
Please get in touch with our Technical Sales Engineer, Dr. Luke Nicholls by email or call (01372) 3337782