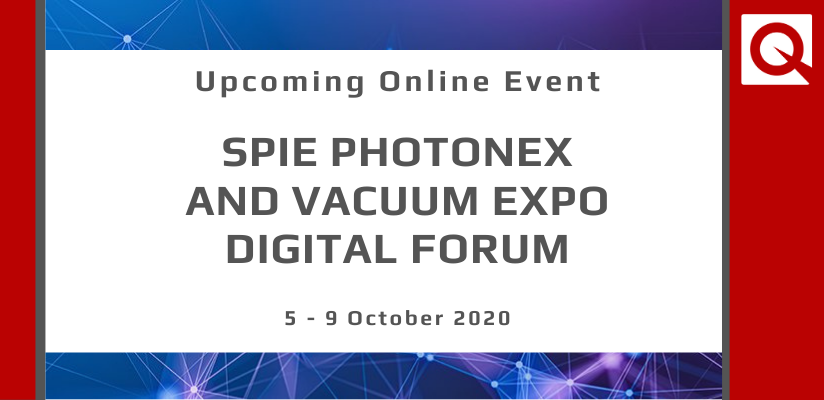 A powerful week of content and connection
Participate in the SPIE Photonex+Vacuum Expo Digital Forum, where you can join fellow academics, scientists and engineers sharing research, latest and emerging techniques, recent application and equipment developments. Included will be photonics, biophotonics, quantum technologies, lasers, optical technologies, nanotechnology, vacuum equipment and in-vacuum technologies.
One of the featured exhibitors is our partner Raptor Photonics.
Learn the latest industry developments through exhibitor product demos, live plenary presentations and on-demand technical talks, and enjoy networking with exhibiting companies and colleagues through online events. Mark your calendar and plan to connect with your community and advance your research.

Plenary Sessions
Sir Peter Knight
Hélène Perrin
Roger McKinlay
QuantIC Plenary TBD
Live Q&A with speakers
Industry Programme – 12 speakers
Advances in Resilient Photonics Manufacturing
Photonics Growth 2021 and Beyond
Funding and the Innovation ecosystem
Future Horizons for Photonics Research: 2030 and Beyond
Conferences – 50 presentations
Biophotonics and Biomedical Microscopy
Hyperspectral Imaging and Applications
Emerging Applications in Silicon Photonics
Cold Atoms for Quantum Technologies
Quantum Photonics: Enabling Technologies
Thin Film and Coating Technologies, Science and Applications
Exhibitions – 50 companies
Photonex Exhibiton
Vacuum Expo
Product demonstrations
Connection opportunities
Important Dates
Author Notification
16 September 2020
Manuscript Due Date
28 September 2020
Presentation Upload Available
21 – 28 September 2020