Attendees at the latest annual Woollam Workshop and CompleteEase Course gave the workshop an overall score of 88.6%. The demonstrations scored particularly highly.
Hosting the workshop and course were:
Shayz Ikram, Quantum Design UK and Ireland
Andrew Martin , J A Woollam Company
Jeremy Van Derslice, J A Woollam Company
For the 19th year running, we were delighted to welcome a full house of Woollam ellipsometer users. This free of charge workshop was aimed at both experienced users as well as people new to Ellipsometry.
Shayz Ikram, of Quantum Design UK and Ireland kicked off proceedings, followed by Jeremy Van Derslice from J A Woollam, who ran through the theory and fundamentals. Jeremy was then joined by Andrew Martin from J A Woollam, and together they gave an overview of ellipsometric applications in both research and production. New emerging applications were highlighted.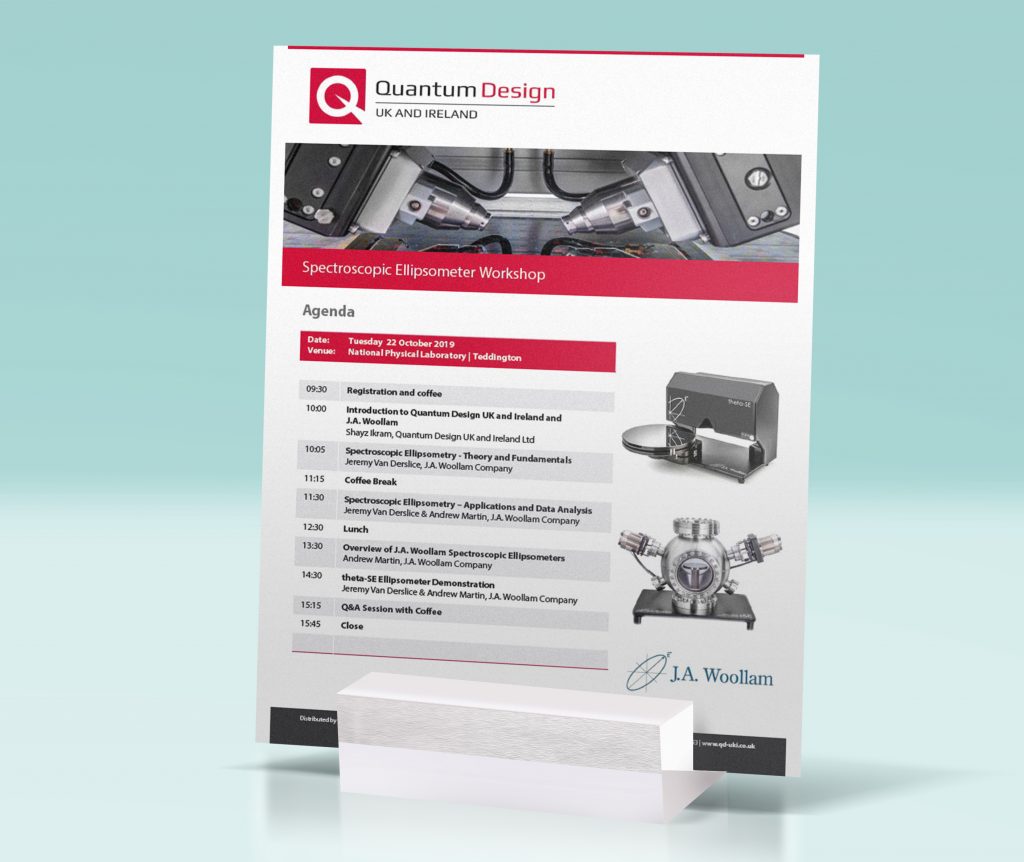 Feedback from attendees mentioned the demonstrations and metaphors used really helped understanding. These included a demo of the NEW theta-SE Ellipsometer
"Excellent introduction to SE"

Chris Morgans, Swansea University
We hope that people who missed out on attending the workshop or the software course this year will register an interest now, as we will no doubt hold more in the future.
The CompleteEase Software course took place over 2.5 days. The training course was an ideal opportunity for attendees to bring their own data for our experts to model. They were also able to learn the finer subtleties of using latest B- Spline/Gen Oscillator parametrisation methodology to provide more accurate optical constant data.
"Thanks for having me, looking forward to other workshops"

Elham Rezasoltani, Imperial College London
Schedule
CompleteEase Software Training – Day 1
09:00 am – 17:30 pm
– Light and polarised light
– Material optical properties
– Ellipsometry fundamentals
– Cauchy Layer
– Transparent Materials
– Transparent Substrates & Films
– Common Complexities
– Surface roughness
– More Transparent Films
– Saving Results (material & model files)
CompleteEase Software Training – Day 2
09:00 am – 17:30 pm
– B-Spline Layer
– B-Spline for Absorbing Materials
– Metal Films
– UV Absorbing Films
– Kramers Kronig (KK) B-Spline
– Convert Cauchy to Transparent B-Spline
– Gen-Osc Layer
– Semi-Absorbing Films using the Gen-Osc Layer
– Oscillator Model Theory
– Commonly used oscillators
– Applying Gen-Osc to materials with absorption
CompleteEase Software Training – Day 3 HALF DAY
09:00 am – 13:00 pm (lunch included)
– Thin Absorbing Films & Multi-sample Analysis
– SE + Transmission Intensity
– Interference Enhancement
– Mapping Data
– Dynamic Data ("in-situ")