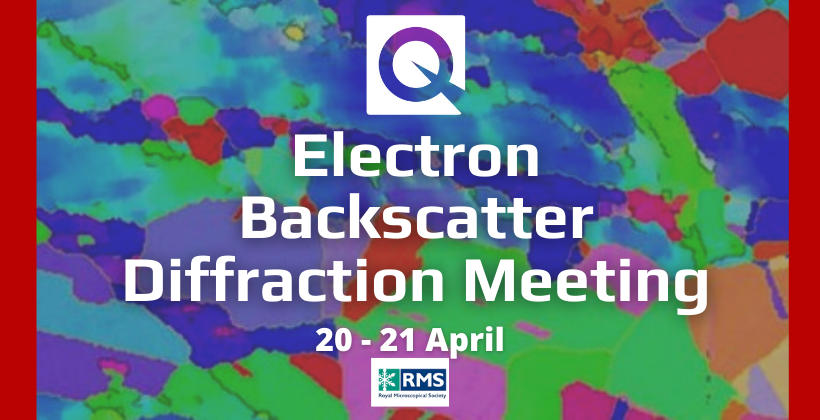 The EBSD meeting this year will take place in a virtual format
We are proud sponsors of this event and our partners, Nanomegas will also feature, with applications specialist Dr. Thanos Galanis giving a talk as part of the event.
"Precession Electron Diffraction in TEM: From Structure Determination to Orientation & Strain Mapping at nm scale"
The annual gathering draws together the whole Electron Backscatter Diffraction (EBSD) community, including leading international research scientists and engineers, early career researchers, and students to highlight the latest developments, from technique development through to applications.
Organisers are anticipating contributions that range in scope spanning the geoscience, materials science & engineering, and mechanical engineering disciplines, as well as emerging applications from the biological communities. Talks will likely include state-of-the-art developments in instrumentation, new software algorithms, and new techniques developments, as well as the use of EBSD, transmission Kikuchi diffraction, electron channelling contrast imaging (ECCI) and related microscopy modalities. Additionally, you will hear applications-driven talks which engage these approaches to reveal new insight into the microstructure of materials systems in emerging scientific applications and industrial challenges, particularly the use of EBSD data in Industry 4.0.
The meeting will be preceded in the mornings by one of two optional workshops, for both advanced and novice users. The advanced course, delivered by Prof João Fonseca's group at the University of Manchester, focusses on the use and understanding of High-Resolution Digital Image Correlation (HRDIC) combined with EBSD, centred on technical requirements and the underlying principles of post-processing data analysis. The novice course, delivered by Prof Brad Wynne, focusses on understanding what is under the hood of your EBSD software, with particular emphasis on maximising the potential of your EBSD data both before acquiring your data and during its analysis.
---
Scientific Organisers
Dr Dikai Guan
University of Sheffield
Dr Dikai Guan is Electron Microscope Research Experimental Officer at the Royce@Sheffield in the Department of Materials Science and Engineering. He has significant expertise in using conventional EBSD and developing advanced EBSD for data acquisition and analysis. The quasi-in-situ EBSD method, as well as newly developed TKD and HR-EBSD, have been widely used in the department for a wide range of materials.
Professor Brad Wynne
University of Strathclyde
Prof Brad Wynne is Research Director at the Advanced Forming Research Centre at the University of Strathclyde as well as a member of staff in the Department of Mechanical and Aerospace Engineering. He has extensive experience in both experimental EBSD data acquisition and development of bespoke code for its analysis. Example codes include beta reconstruction code and macrozone analysis tools for titanium alloys, both of which are used extensively in academia and industry.