Rooms: CR16/17
The workshops are now full
A reserve list is available so please do let us know of your interest to attend by emailing angela@qd-uki.co.uk
---
We have pleasure inviting you to our Quantum Design MPMS 3 and PPMS DynaCool Workshops which are being held at Rutherford Appleton Laboratories on Wednesday 25 and Thursday 26 May 2022.
All Material Property Measurement System (MPMS) and Physical Property Measurement System (PPMS) users – and those interested in purchasing these systems in the future – are strongly encouraged to attend as this is an ideal opportunity to learn more about the systems and meet the application experts from Quantum Design Inc.
Registration is free and will include lunch and refreshments throughout the days. The agendas will be finalised shortly, but please do scroll down for a little taster of what we'll be covering during each of the workshops.
REGISTER BELOW
Workshop Topics
Day 1: MPMS3 (45 minutes each)
Base System: Temperature/Field Control and Basic DC SQUID Theory
Measurement Modes: DC-Scan vs. SQUID-VSM and AC Susceptibility
Options: Oven, Pressure, FOSH, Rotator Electrical Transport, Ultra Low Fields
Measurement Considerations Including Sample Mounting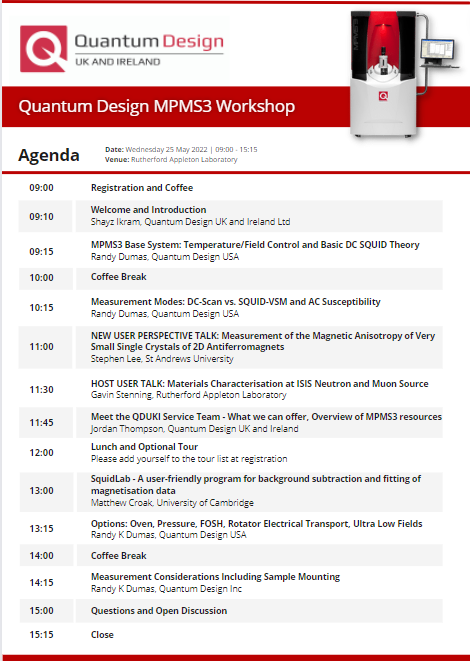 Day 2: PPMS (45 minutes each)
PPMS Overview and Basic Base System Operation
Magnetic Measurements: VSM and AC Susceptibility (including ACDR)
Thermal Measurements: Heat Capacity and Thermal Transport
Electrical Measurements: DC vs. AC Resistance and van der Pauw Hall
Audience Choice: Dilatometer, Broadband FMR, or PPMS as a general platform
---
About the Speakers
---
Any questions ahead of the event?
Contact Marketing Manager Angela Carslake